Here is a picture and Harper's emotions about the painting!!!!

My wife and I first visited Laura's amazing art studio in May 2011, while celebrating our 10th anniversary in Italy. We purchased a small painting of the Amalfi Coast but admired many of her larger pieces as well. We often thought about her other works, especially the faces- they were so striking! My birthday was on Christmas Eve and my wife arranged a huge surprise for me! I received "I See You" by Laura Lupa to my great surprise!!! I had no idea and was absolutely thrilled! It is hanging in the most perfect spot where it can be easily viewed all the time. I love it.

Harper King | Richmond, VA
Dear Laura
Just to let you know that 'Olga' arrived safely. We are so happy with the painting. Thank you so much. We had such a wonderful holiday in Italy,
especially Positano and she will always remind us of those times and your beautiful city....
I hope the New Year brings you much happiness and success........
With best wishes,
Mandy & Sandy (Archibald)
Dear Laura
We wanted to let you know that we really enjoy your painting and I put it up as soon as we got it. We have attached a picture of the painting in our house.
We wish you a Happy New Year and all the best
Barbara & Giorgio Vannotti | Svizzera
You painted a picture of our Labrador Sophie for us in June this year. Do you remember, we had the photo on a mobile phone.
I just wanted to say how amazing it looks on the wall, and everybody admires it.
Thank you, we will be back to visit next June, perhaps with another photo.
I have sent a request on Facebook.... if you go to my page, your painting is my profile photo!!!
See you in 2012
Liz Lloyd
Laura,
We bought a painting of the face of a dog from your gallery in Positano in May 2011. We named the painting A"dog"io, because it made us feel "at ease". For us, the large yellow eyes look right into our hearts and convey a soft, gentle, compassionate feeling. We love the blue colors you used and the abstract designs you used around the face to focus attention to the face. The painting brings a smile to my face every time I look at it and fond memories of all the dogs I have owned. You captured my feelings for dogs (and animals) in this painting.
Grazie,
John Garteiz and Karen Schroeder Munich, Germany
Dear Laura,
It has been difficult for me to express in words the magical feeling I felt on seeing both paintings ( INDIRA and PARTENOPE).

I saw Indira first and instantly fell in love…I admired the colours and strokes used by you and it gave me a feeling of peace and tranquility in this crazy hectic world and I knew instantly I wanted it so I could experience this feeling every time I walked into my home. Like the meaning of the Indian name INDIRA…it really is BEAUTIFUL..You are a fabulous artist..
Then!!!, before I could turn around I saw Partenope and the way you have portrayed female beauty and sensuality with the special ceramic work and earthy colours and the hints of blue just swept me off my feet! What a feeling to be in magical Positano, in a magical little studio and see such beautiful works of art!
Thank you Laura.. I look at them and marvel at how fabulous an artist you are – EVERYDAY!
Best Regards,
Shivani Sharma Duseja
Director
''As soon as we saw the painting (ndr Lee) we fell in love with it!!! We love the technique and how colorful it is, the expression she has... it just makes you wanna keep staring at it!''

We all wanted to congratulate you Laura, your paintings are just breath taking and we absolutely LOVE your work!!!!!!

Big hug,

DANIELA GRIMBERG Mexico City
''Our first impression of the painting (ndr Selenia) was the strong look in her eyes and the colors. The painting is beautiful!!''
JAIME GOLDSTEIN, Bogotà Colombia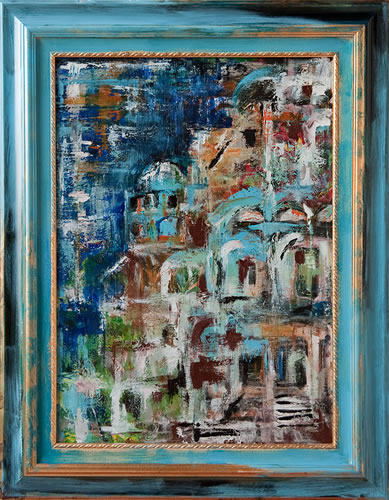 Hi, Laura!
Here you go:
"Positano 3 was the perfect painting for us to take home with us as a reminder of our gorgeous 9-day stay in this spectacular town. The combination of colors, textures, and emotion in the piece is what caught our eye. It is stunning in our master suite."
Heather and Deobrah Mizeur, Maryland, United States

"Me and my girlfriend saw the painting Kali when we were spending some time in Positano. Because of the bad weather we visited the restaurant next to the Hotel. The paintings of you immediately catched our eyes and especially Kali. We really thought is was beautiful! After we went home, I couldn't resist to ask more info about the painting Kali and I bought it as a present for my girlfriend. I can say she did really appreciate it! :) There are some more paitings we really like, so I think we will have some more work of you in the future..."

R&M -Netherlands-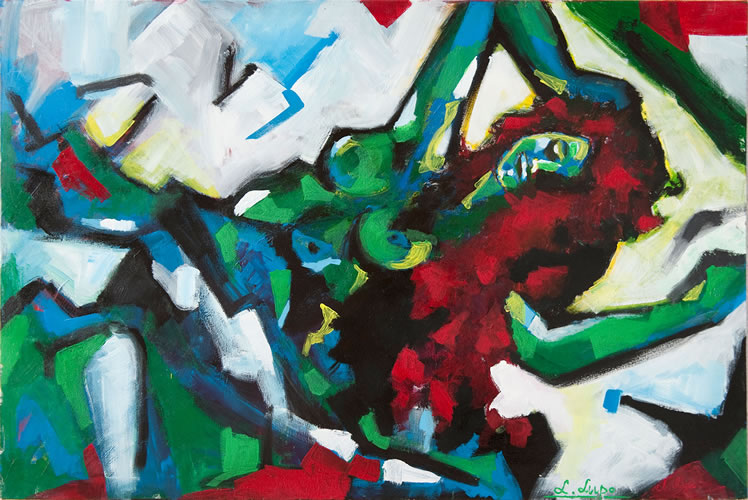 "Helen" si sta svegliando ma nn si riesce a capire se è un lieto risveglio o sarà una giornata nera in questo mi assomiglia e proprio questo mi ha colpito con quei colori.
"Sara" gli occhi ke colpiscono, uno sguardo ke penetra rimango affascinato a guardarti e nn riesco a nn guardarti......direi un'attrazione fatale

ti mando un grosso bacio e ancora grazie per riempire i muri di casa mia con queste emozioni
antonio gipponi
I am the proud owner of 2 pieces. Positano 11 and the Lovers 6.

I was thrilled when I stumbled across Laura's stdio while on vacation in Positano. I was immediately drawn to the scene and colors in the painting Positano 11. I had to have it as a memento of my trip there. Now when I look at it the scene evokes such great memories of the beautiful views of the coast while the blue and orange coloring makes me feel the warm Italian sun and smell the ocean. While in Laura's gallery I could not stop looking at another piece there, The Lovers 6. The bold green and gold coloring kept capturing my attention. Even when I turned away from it I felt the two entwined lovers trying to steal my gaze back. I did not leave the gallery with the painting that day, but I could not stop thinking about long after I returned home from vacation. Then, as I entered a brand new relationship in my life, I just knew it was fate I had to have it. So I contacted Laura and had it shipped over to me. It now hangs in the main room of my home and every day reminds me to never stop looking for love even when it seems lost.

James Juliano, Medford NJ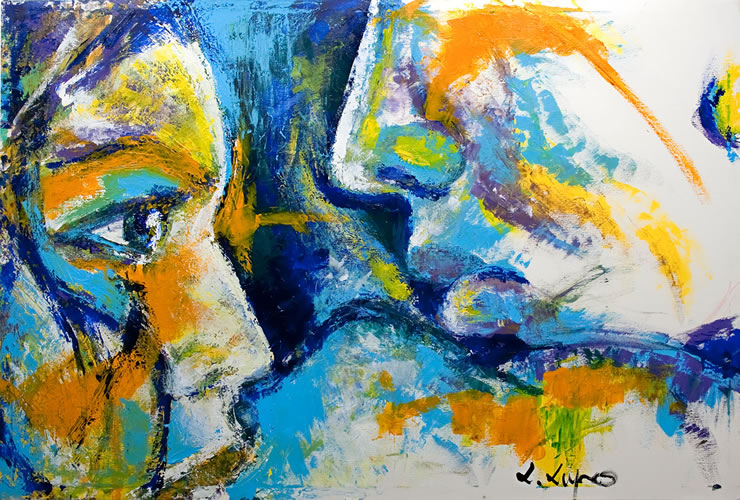 We just hung "The Lovers" on the wall of our beach house in Hermosa Beach, California. It's stunning! It's perfect for our home and perfect for my
husband and me. We have a long love story and it took us many years to be together and when we look at your painting, we see ourselves. It also
reminds me of a sculpture. My favorite piece in the World is the Bernini of Apollo and Daphne in Rome. Somehow, your painting reminds me of that, as well.
Cynthia Reilly - Hermosa Beach CA USA
Being the proud owners of two your your paintings, my wife and I often marvel on the great addition they brought to our home. We love their colors, the very different moods they capture, and the emotions they provoke. It has been a number of years since we got them while in Positano and we continue to enjoy them on a daily basis.
Dr. Shlomo Ben-Hur - Switzerland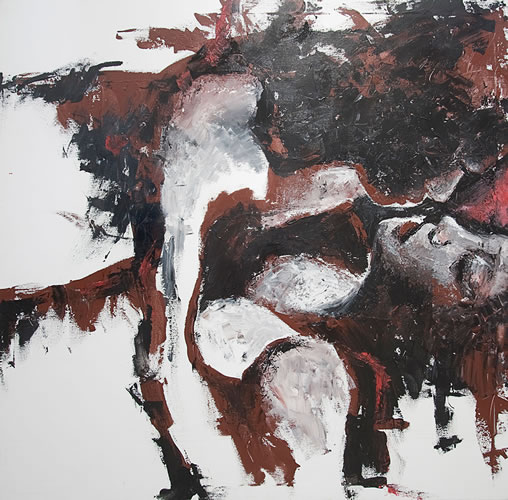 The Lovers (Gli Amanti 2) - We stumbled upon Laura's gallery by chance while going for a walk along the beautiful streets of Positano. It was love at first sight when I saw this amazing painting. Laura manages to capture passion, drama, love, intimacy and surrender all at once with her brush strokes in this piece!
Kind regards
Indu Arora, Dubai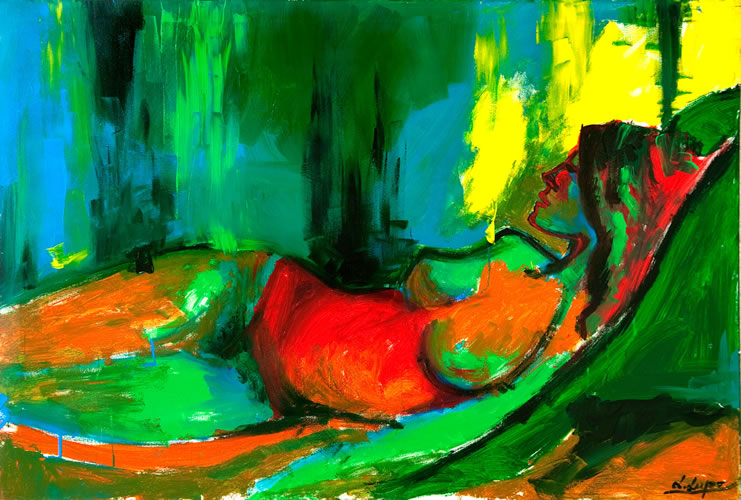 Laura captures the female form with amazing technique. This technique as well as her use of colors drew me to this painting. It is a beautiful piece with vibrant shades of green, orange, yellow and red which bring a smile to my face every time I look upon it hanging in my dining room :)

Kind regards
Indu Arora, Dubai

I decided to get my first tattoo ever, which is on the back of my neck of "two eyes"— watching out. I felt it represented safety, watching out for protection. When I saw your two paintings at the café, I felt the love and at first, could not decide which one would be right for me to buy.
Wendy Lewis USA
My husband and I were on vacation in Positano in November 2008. We saw Laura's paintings hanging in our hotel, and we absolutely loved them. We took photos of our two favorites, and I emailed her to ask if we could buy prints. She told us that she does not make prints, but she would sell us the originals! A few weeks later they arrived, and they have both been hanging in places of pride in our living room ever since. Dr. Jennifer Sheehan, Denton, TX, USA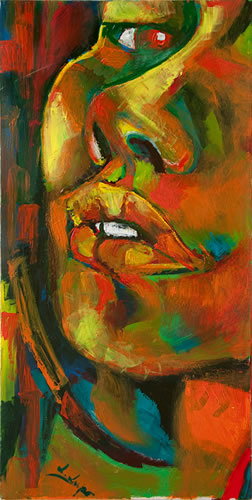 Hey Laura! Jen and I are thoroughly enjoying our painting that we got from you. We have alot of comments on it from people who visit with us at our house.

Its a bit exotic and mysterious....always a topic of conversation! Can't wait until we can get more of your work up in our house.

Thanks!
Allison and Jen Simon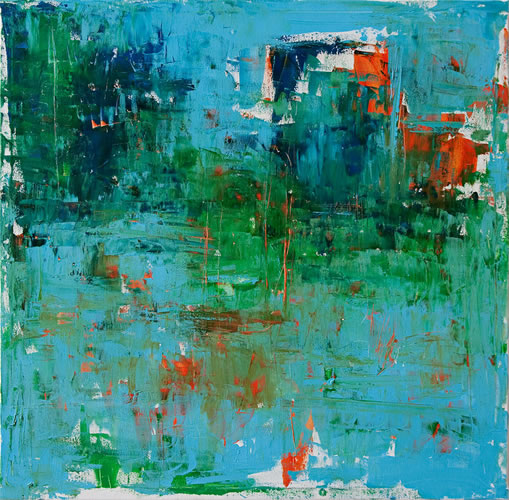 "Riflessi sull' acqua" (Reflections on the water) was the title of the painting di Laura Libera. I saw it first on a holiday trip, entering by chance her little gallery in Positano. The fascination was instantly - and remaining. It's a painting which allows the Fond-of-All-Italian-Beauty-Northern-European (a person of cliche as of
reality!) to remember the colours of "campania felix" - it's nature: the blue of the sea and the sky, the red of the sun, the green of the plants and trees; and also it's culture: the blue and red and green for example to be seen in the frescos in Pompeji, Herculaneum and all the other sites of empathy. So I couldn't find any calm and rest until I decided to write an e-mail to Laura Libera, demanding whether the painting was still available and whether she could send it to me - and found my rest and calm, when it finally arrived in Berlin, covered immaculate in a solid wooden container. It is my daily delight.

Dr. Christian Keller, Giurista, Di Berlino in Germania.